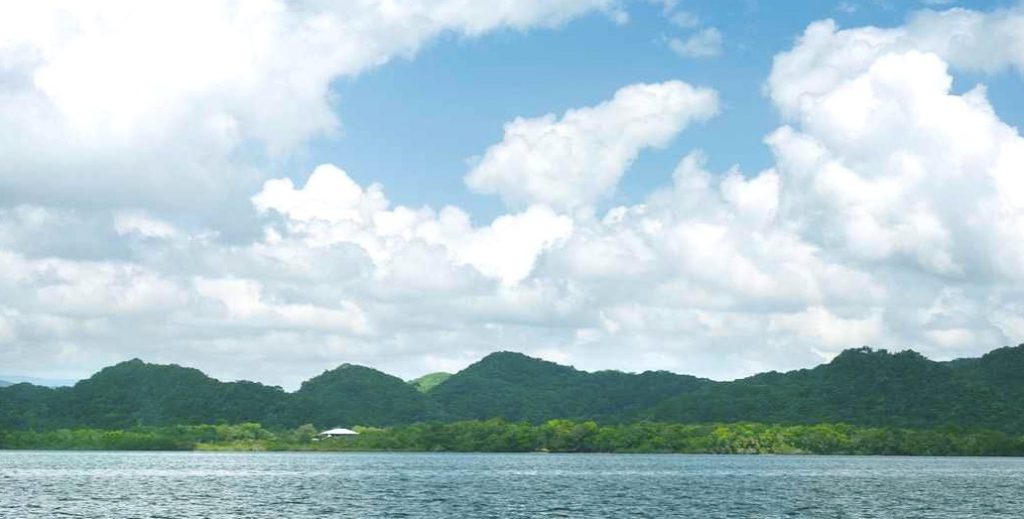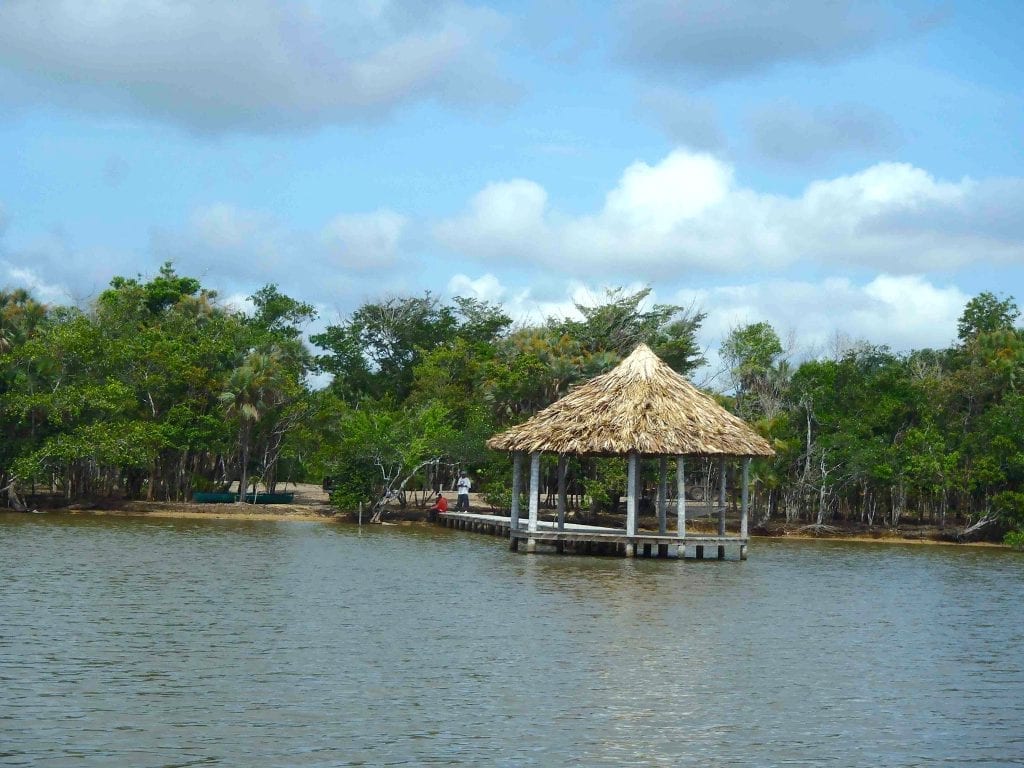 This 870 acre, Off-Grid, Private Fishing Lodge
is nestled in Belize's Exotic Coastal Hills
This private lodge is secure within 870 pristine and private acres. It has one mile of seaside lagoon waterfront & beach, and one mile of frontage on Belize's newly-paved Coastal Highway. It features a beautiful & modern lodge home, made of reinforced concrete and local hardwood. An 18,000-gallon, salt-filtered swimming pool sparkles next to the home, with a hardwood deck, bamboo outdoor showers, and a thatch-roof Mayan Kitchen down a 30-metre walkway. The property includes two additional, strategically-placed watchman homes for on-site watchmen and their families. Additionally, there are two air-conditioned private cabañas for guests; a 129-ft pier and ocean-access dock; and a boat launch area. It is secure on a 2 -1/2 mile paved and gated, private road. There are organic gardens and fruit trees. Several miles of national-park-quality trails wind through and around the property, and up into its dramatic jungled hills. Large cavern systems contain Mayan artifacts. There are plans and blueprints for an 8,000 sq ft luxury lodge/ restaurant / bar at the waterfront.
The property has numerous building sites with panoramic views.
This area is in coastal Belize's new growth area ~ within an hours drive from the airport. The waterfront is an IUCN Category IV Wildlife Sanctuary, featuring some of the best sport fishing on the planet. It is a short boat ride to the Caribbean Sea with miles of untouched beaches. Offshore is the world's second largest barrier reef, the MesoAmerican Barrier Reef, with the best snorkeling, scuba diving, sailing, and sport fishing.
This off-grid estate is air conditioned, and completely powered by a state-of-the-art solar power system. It has a modern kitchen, ensuite bathrooms, and 360° veranda under-roof. It is served by a robust, filtered, rainwater catchment system providing all household water needs for all residences on site. It is within cellular coverage, and has line-of-sight broadband for great internet access.
Belize's Coastal Highway is now the finest road in the country, traversing this wild and scenic coastal region. By vehicle, the property is less than an hour from Belize's International airport. One could leave Chicago or Boston in the early morning, and be picked up at the airport before noon. It is very exciting to arrive here by boat, through jungle rivers, bird sanctuaries, and seaside lagoons. By helicopter it is 9 minutes from the airport.
Additional waterfront acreage is available adjacent to and across the highway from the property, with great building sites, and a natural geo-thermal spring.
It is fully-furnished and equipped. It includes a fly-fishing skiff and a vehicle.
Contact us for more information, pricing, and GPS location.