Enjoy Caribbean sunrises and a laid back lifestyle in this tranquil Safe Haven.
Almost all of the smaller lots are NOW SOLD, as of October 1, 2022. These were the last of the small Prime Caribbean beachfront lots with deeded road access, in Belize's spectacular Manatee/ Coastal Highway area. This is the only reasonably-priced Caribbean beach land with public road access anywhere in Belize. The Coastal Highway is being paved right now, due for completion 2023. Once the paving & bridging is complete, this area will become Belize's newest "go-to" zone. As you see, the smaller lots are sold already, and property value will only go up.
These properties boast wide, elevated sand beaches with mature coconut & hardwood trees. This is undeveloped, prime, elevated, high-sand, ocean frontage. This location is on the mainland with quick & easy access from Belize's international airport, less than 90 minutes by vehicle, 9 minutes by helicopter. By boat, this property is about 23 miles (90 minutes) due south of Belize City and 20 miles north of Dangriga town. It is 2 miles directly east of Gales Point Village.
The MesoAmerican Barrier Reef is just offshore. This beach is the shortest distance by boat to both Turneffe Atoll and Lighthouse Reef.
Surrounded by thousands of hectares of wild, national lands, and an IUCN Category IV Wildlife Sanctuary, these properties are accessible via road from Belize's spectacular Coastal Highway via the picturesque, 4-mile, Beach Road.
Currently as of October 1, 2022, Almost all of the Smaller Oceanfront Lots are SOLD.
Please note: these are all ROAD ACCESS building lots with pristine CARIBBEAN BEACH:
Lot #7, 2.8 acres (uncleared) = SOLD
with 195 ft beach frontage, culvert & entry drive
Lot #6, 2.8 acres (uncleared) = SOLD
with 195 ft beach frontage
Lot #5, 2.81 acres B&B RESORT = SOLD
Turnkey Resort, 195 ft landscaped beach frontage, fully functioning, with ocean dock
Lot #4, 3.18 Acres (uncleared natural beach) = $355,000
with 211 ft Beautiful Beach, Culvert & Entry Drive

Lot #3, 3.19 acres (uncleared) = SOLD
Lot #2, 3.20 acres (uncleared) = SOLD
Lot #1, 3.25 acres (uncleared) = SOLD
You wouldn't believe how low the property taxes are on all these beach properties!
4.8 acres (Cleared & Subdivided) = $SOLD
with 328 ft elevated beach frontage, including a 1.5 acre beachfront lot, a 1.28 acre beachfront lot,
and four 1/3 acre beach-access lots, centered around an established cultural-de-sac.
This property is legally subdivided and can be permitted for an ocean dock.
10 acres (cleared beach) = $SOLD
with 690 ft beach frontage

15 acres (cleared beach) = $SOLD
with 1,000+ ft beach frontage
184 acres with Beach House & Acreage = $1,120,000
Beautiful beach house; landscaped, high-sand, Caribbean beach;
This parcel extends from the Caribbean Beach to the Southern Lagoon Beach
with "Beach Road" from the Coastal Highway running through it.
490 acres (natural beach & open savanna) = SOLD
over 1 kilometer of well-elevated, high-sand, natural beach frontage, public road.
948 acres (beautiful beach & open savanna) =  $4,800,000
over 1.5 miles of well-elevated, high-sand, Caribbean beach frontage, public road.
This undeveloped parcel extends from the Caribbean to the Southern Lagoon & Tooths Lagoon.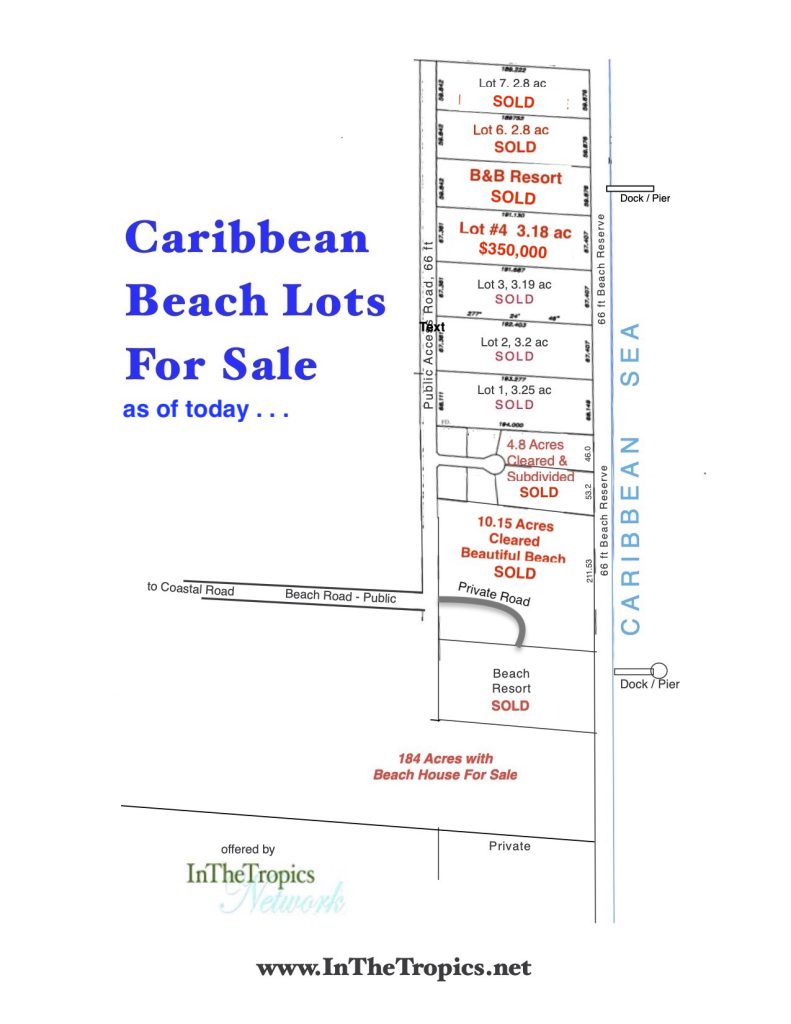 It is very rare to find pristine beach lots, with road access, anywhere in Belize for any reasonable price. Most of these under 15-acre lots now are SOLD. We do have larger-acreage, high-quality Caribbean beach land – with deeded road access –  for reasonable prices.  The surrounding coastal sections are available in large acreages of hundreds and/or thousands of acres. As you may know, quarter-acre lots in crowded Hopkins or Placencia are selling for $250,000 and up. Our beaches are better, and closer to the International airport, and surrounded by natural, wild habitat.
There is sparse population in this pristine region. You will find wildlife, aquatic life and plant life in wild natural abundance. Within the Gales Point Wildlife Sanctuary (an IUCN designated Category IV Wildlife Sanctuary), this beach is one of the western Caribbean's most important nesting grounds for Hawksbill turtles. The immediate area, including the seaside lagoons nearby, is home to the largest population of West Indian Manatee in North or Central American or the Caribbean basin. Healthy populations of jaguar, ocelot, parrots, monkeys and other rare and exotic species abound in the surrounding forests and savannas. The sport fishing here is some of the best in the world, featuring tarpon, jack, barracuda, grouper, permit and many other species. The famous MesoAmerican Barrier Reef begins about 9 miles offshore for outstanding reef fishing, and some of the world's best snorkeling & reef diving!
With natural, high-sand beaches populated by mature coconut palms and hardwood trees, these properties are well-elevated, excellent building sites. The Coastal Highway currently is an all-weather gravel road, and it is approved for paving by the government. Once paving happens, this strategic road and vital shortcut to the southern half of the country will attract more people. Property values will appreciate and development will come. By using thoughtful, low-density planning and sustainable building practices now, this area is becoming an in-demand resort, safe-haven, and private retreat area. Right now it is investment-grade, ocean-front land, sure to appreciate.
This is clear-title property. Foreigners can hold title to land here in Belize, unlike many other Caribbean and Central American nations.
The taxes, monetary system and business climate in Belize are favourable. Titles for these properties are capable of warranty by the major title guarantee companies.
This uncrowded part of Belize is where the majestic Maya Mountains come closest to the sea. It has fresh Caribbean breezes, plenty of sunshine, and ample rainwater & freshwater. Create your own private, beach-front hide-a-way, secure in this Caribbean safe haven.
Please contact us for more information.
Click on a photo for a larger, detailed view of the image.
Contact us for site plan, maps, building costs, details and GPS coordinates.