UNDER CONTRACT. This 3.19 acre lot is the perfect place to create your Beach House. Its ocean frontage is 221 ft. of resort-quality, elevated sand beach; it is 628 ft. deep. It is on a public-access sand road, 4 miles off Belize's newly-paved Coastal Highway. Although there is a beach resort being built nearby, a very nice beachfront B&B, and several other beach homes nearby, this is a relatively quiet and pristine area. It is located 3 miles due south of the mouth of the Manatee Bar River, and it is on the isthmus directly east of Gales Point.
This is an off-grid property, however most of us who live in this region utilize modern solar power, and filtered rainwater catchment systems. We can show you how to harness the sun and rain for your new, laid-back Caribbean lifestyle. The lot is uncleared, with hardwood forest and palm trees.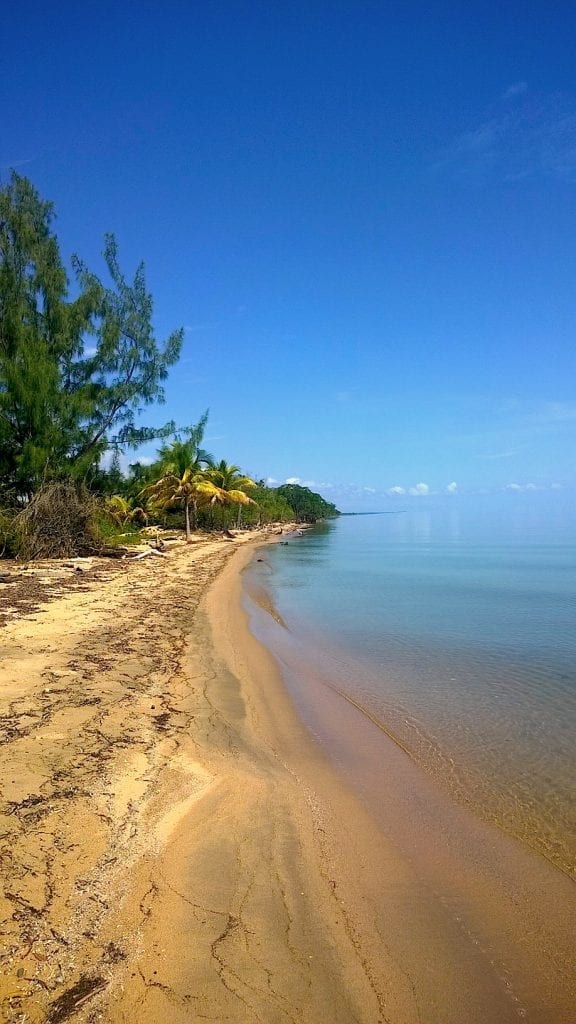 The beaches here are relatively untouched and secluded. You can walk for miles, and the swimming is great. About 9 miles offshore begins the MesoAmerican Barrier Reef. 185 miles long and about 50 miles wide, this reef is the second-largest barrier reef in the world, with arguably the most verdant and unspoiled coral reef anywhere. It is famous for snorkeling, scuba diving, sailing, and sport fishing. In fact, this beach right here is one of the most important Hawksbill Turtle nesting sites in the Caribbean Sea.
The Coastal Highway is now almost completely paved, realigned, and bridged to international standards. Long a rough, 4-wheel-drive road prone to flooding, it is now the finest highway in Belize. From this lot, you can drive to the International airport in a little over 1 hour. Because of this new accessibility, and because the Coastal Highway is a strategic shortcut to the southern half of the country, demand for beach lots and acreage in this beautiful region has increased.
UNDER CONTRACT
Please contact me for
more information,
GPS coordinates,
and to schedule a viewing.