Tropical Paradise

46 acre Tropical Paradise in Belize's mountainous Cayo District with 3 spacious homes, and infrastructure
in place for more residential and/or resort development. This riverside estate is private and secure, but only a
7-minute drive from the capitol city. With abundant fruit and flowering trees, this property is licensed as a
Bed & Breakfast, and as a working bird and animal sanctuary. 
Enjoy this tranquil, tropical paradise where flocks of yellow-bill parrots, aracari, and scarlet macaws fly in from the nearby jungle everyday around sunset to roost in the flowering trees by the house.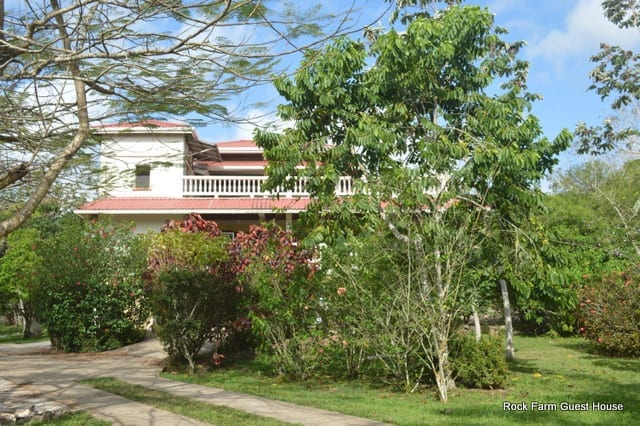 • Three spacious homes, plus guest cabaña, future cabaña sites, and watchman/staff quarters;
• Hi-tech, embassy-grade communications & security systems throughout the property;
• Huge freshwater storage system with water piped throughout the property;
• On-grid power with 115v & 220v, throughout the property;
• Open-air laundry building;
• Cable & internet throughout the property;
• Barn w/ power, water, security & horse/animal stalls;
• Extensive irrigation, w/ fountain, ponds & flowing streams;
• Bird & animal enclosures;
• Workshops, clean laboratories, & large garage;
• Air-conditioned computer room;
• Over 1 mile of picturesque, high-bank river frontage;
• Working water-wheel irrigates upper acreage;
• Producing fruit groves & kitchen gardens;
• Hundreds of species of wild jungle birds;
• Rock quarry;
• Three(?) miles of gated, private roads, with all utilities in place throughout the property;
• Numerous, elevated building sites with panoramic mountain views;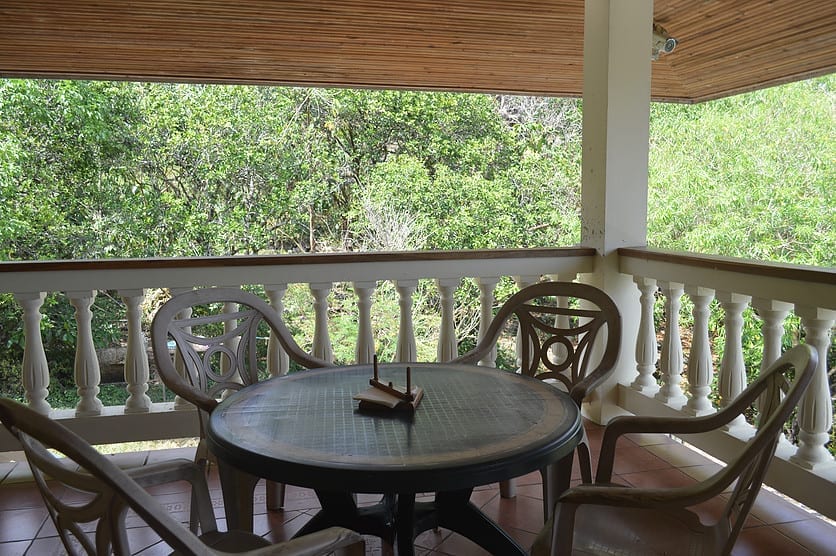 The Main House is a 9,600 sq. ft., 3-storey concrete/hardwood/tile luxury home, with the first story consisting of a spacious garage, clean laboratories, air-conditiomed computer room, storage and workrooms. The second storey has 3 large bedrooms with ensuite bathrooms, broad verandas, a professional-grade kitchen, dining & living rooms. The third story consists of a 2-bedroom residential suite, plus a broad veranda and entertainment patio.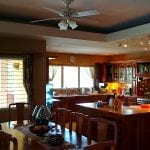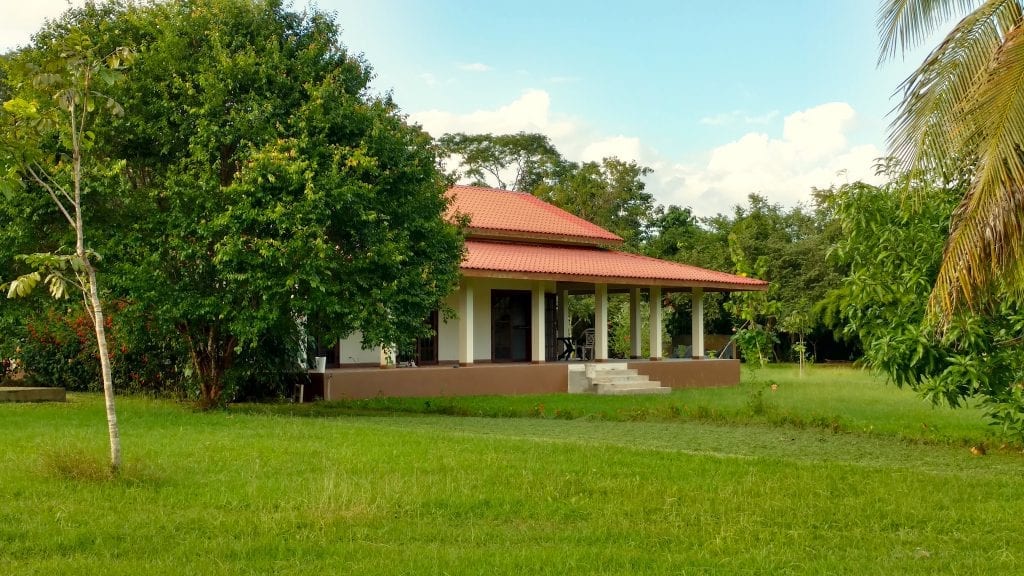 The Guest Residence is a separate 2,296 sq. ft., 2 bedroom, 2 bath, single-level garden house with a nice kitchen, dining room, living room, office, laundry room; with electricity, cable, water & security system, and a panoramic mountain view.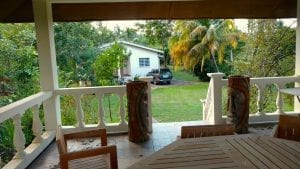 Watch the sunset over the Maya Mountains in the Hilltop House. This 1,776 sq. ft. stucco home has 2 bedrooms, 1 bathroom, a spacious kitchen, dining room, living room, laundry, and panoramic covered veranda.
Connected by a short walkway is the Hilltop Gazebo, a peaceful hill-top lookout of 625 sq ft with fish pond, electricity, cable, water & security cameras. This is an excellent place for relaxation, morning coffee, or a cold beer after a hot day.
This remarkable property is a turn-key, secure, safe-haven paradise, Bed & Breakfast, and residential compound. It consists of 3 separately titled sections already set for subdivision. It is close to a great public golf course popular with embassy, business and government clientele; it is in a comfortable, subtropical agricultural area with the perfect climate; it is peaceful & secure, but across the river from Belmopan, Belize's capitol city.
Contact us for pricing, details, photos,
GPS location, and to arrange to visit this Tropical Paradise.