Digital Nomad Station

Digital Nomad Station in Belize's Mountains
In a private location near the capital we are offering a 48 acre property
that is an ideal Digital Nomad Station.
This property is now a popular and busy B&B. It is also Belize's major jungle bird rehab & release facility, attracting scientists and birdwatchers from around the world.
It is strategically located within 4 miles of Belmopan, with foreign embassies, a university, government offices, and a thriving business community nearby. It is within one mile of Belize's major public golf course.
It is an easy day-trip to all of Belize's incredible activities, including coral reef diving, Mayan ruins, national parks, jungle adventure, cave tuning, sport fishing, and more.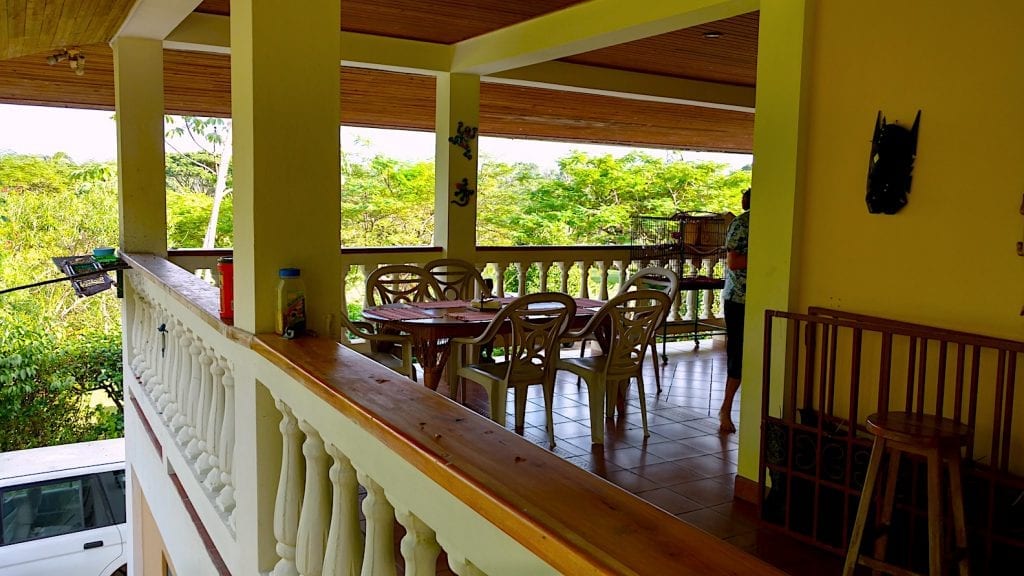 Consider Belize ~ a tropical, English-speaking country
on Central America's Caribbean coast*
Belize is a laid-back tropical haven, where more than 40% of the land is protected sanctuary or park land, and where the US$ is accepted anywhere. With the lowest population density in Central America by far, Belize is home to an incredible variety of vibrant cultures. From its high-canopy rain forest mountains in the west, to its Caribbean beaches and barrier reef islands, Belize has long been the destination-of-choice for inspired world travelers.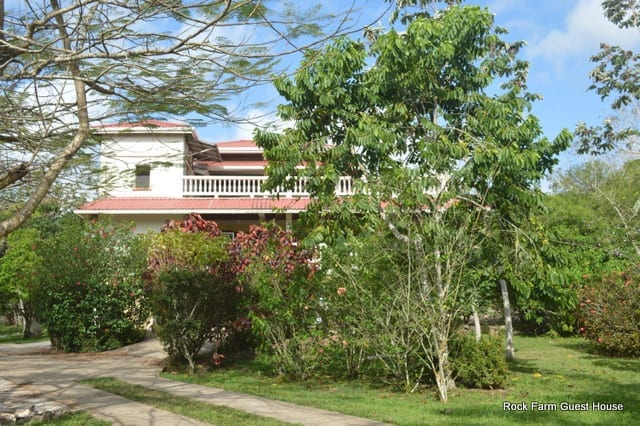 The Main House is a 9,600 sq. ft., 3-storey concrete/hardwood/tile luxury home, with the first story consisting of a spacious garage, clean laboratories, air-conditiomed computer room, storage and workrooms. The second storey has 3 large bedrooms with ensuite bathrooms, broad verandas, a professional-grade kitchen, dining & living rooms. The third storey consists of a 2-bedroom suite, plus a broad veranda and entertainment patio.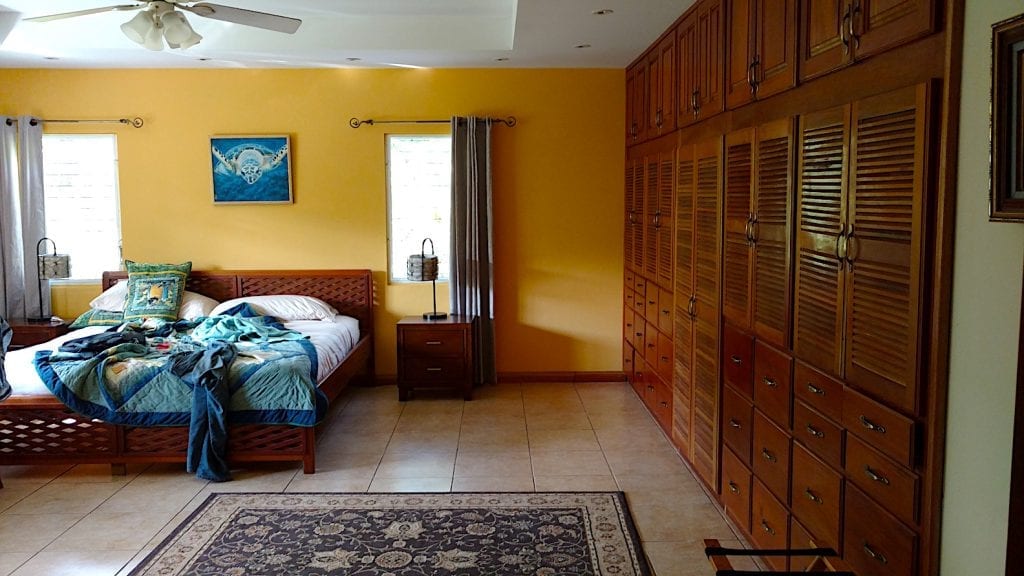 Every evening before dinner, wild parrots flock to the wide veranda and its surrounding fruit trees for their nightly roosting. A large variety of tropical birds and waterfowl live here and in the surrounding jungle area. The current owners operate an avian rescue and rehab center here. 
This well-landscaped property has one large 5-bedroom, 3-storey villa with kitchen & dining rooms; laboratories and computer rooms; two spacious 2-bedroom villas; several modern cabanas; gardens and orchards; all comfortably set within its 48 acres. Each residence has WiFi with internet utilizing the best bandwidth in the country. The panoramic views here are incredible.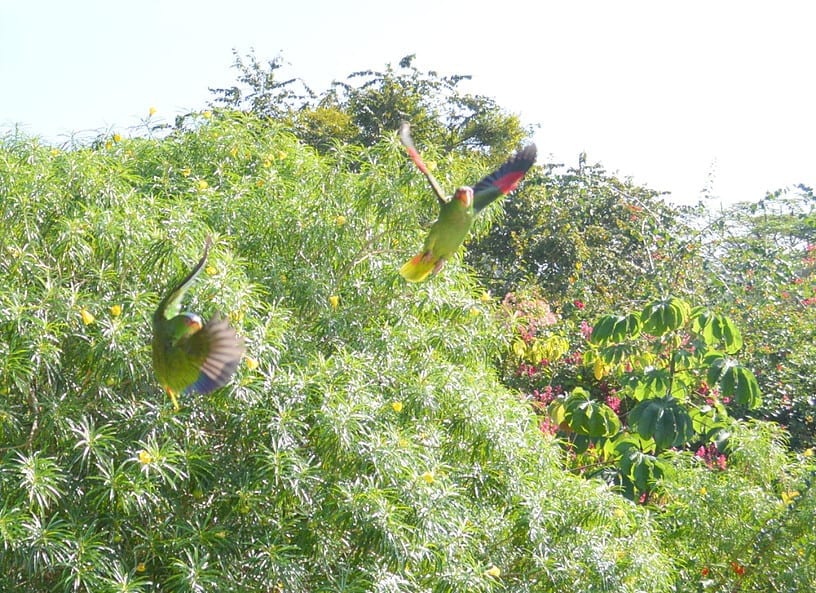 Swim and kayak in the wild-and-scenic Roaring River, which borders the property for over a mile. Hike its river and hilltop trails, and its park-like roads connecting the various houses, cabanas, workshops, barns and other facilities.
• Lush, tropical setting
• Large, luxury villa with 2-level verandas, now a major B&B
• Two 2-BR homes, spacious, with modern technology
• Several modern cabanas with WiFi
• More building sites
• Watchman quarters
• Veterinary lab & facilities
• Fruit orchards
• Laundry
• Waterfowl ponds
• Horse Barn
• Raptor barn
• Aviary
• 1 mile river frontage
• Work shops
• Spotless laboratories
• Air conditioned server room
• Cable throughout property, with excellent internet bandwidth
• Massive freshwater cistern and aquifer
• Hiking trails and scenic private roads
• Gated access and fenced security
• Nearby a major city and government center
• Private and secure, across the river from Belmopan
• Nearby major Mayan ruins and national parks
• Kayaking, river rafting, cave tubing, jungle hiking
• Day trip to snorkel & dive in the MesoAmerican Barrier Reef
• 1-1/4 hour drive from the international airport ("BZE")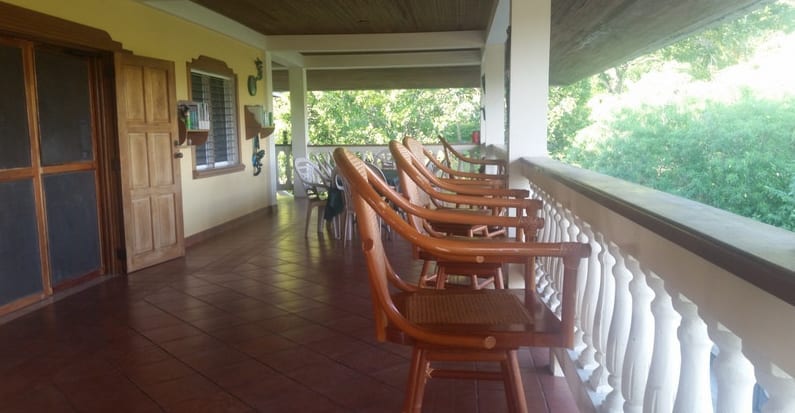 This is clear, freehold title property, capable of title guarantee. It is well-built, intelligently-designed, and engineered for all weather. It is fully permitted for commercial business and overnight guest services.
Please contact us too arrange a visit, 
and for pricing and terms.
* People with passports from numerous countries can enter Belize without a visa, and stay for up to six months by merely renewing their tourist visa monthly, at a low cost. Longer stays are possible, as is residency and second passports. Contact us for more details.