We have just a few Prime Caribbean Beachfront Lots left available, with deeded road access in Belize's spectacular Manatee/ Coastal Highway area. The Coastal Highway is being paved now ~ this will soon become Belize's newest beach resort area. Pricing is far below pricing for any other Belize beach lots with quality beach and deeded road access. These properties boast wide, elevated sand beaches with mature coconut & hardwood trees.
Our lots have prime, high-sand, ocean frontage of 195 ft. and more. This location is on the mainland ~ facing the Mesoamerican Barrier Reef. It is a 90-minute drive from Belize's international airport. By boat, these quiet beaches are about 23 miles due south of Belize City and 22 miles north of Dangriga town. They are 2 miles directly east of Gales Point Village, and 4 miles off the Coastal Highway on the beautiful sand Beach Road. . . 9 minutes from the international airport by helicopter
This beach is "the most important Hawksbill Turtle nesting around in the Western Caribbean". Just offshore is excellent Tarpon fishing. It is surrounded by thousands of hectares of wild, national lands, and is accessible via road from Belize's spectacular Coastal Highway – which will be completed next year. Once this road is paved (2023), this area will become Belize's new "go-to", rivaling Hopkins or Placencia, yet much closer to the airport.
We challenge you to find a better a per-acre price
for deeded-road-access beach lots
~ with resort quality Caribbean Beach ~
in all of Belize !
It is very rare to find pristine beach lots of any affordable size – with road access – anywhere in Belize. The smaller lots listed below are the ONLY quality ocean beach lots with deeded road access available  on Belize's coast for under $200,000 per acre ~ and most are sold.  Other smaller coastal lots that you may find are water-access only, or made up of mangrove swamp. Quarter-acre lots in crowded Hopkins or Placencia are selling for $250,000 and up. Once these few, spectacular lots are sold, there will be no more available, not even for twice the price!
Less than 11 miles directly offshore is the MesoAmerican Barrier Reef. Surrounding this reef are beautiful coral reef islands, with coral structures perfect for snorkeling day trips. The most famous of these nearby islands is Rendezvous Caye (pictured above), where we often visit for picnics, snorkeling, reef fishing, and beach lounging.
Recent Addition:
19.72-Acre Caribbean Beach, with 420 ft. of prime ocean beach. Situated several hundred meters north of the Manatee Bar Rivermouth, and 3 miles north of the lots shown on the map below, this property is boat access only, and is 3.5 miles by boat from the public dock on Gales Point:
Sale Price is $195,000
~~~~~~~~~~~
See map below for lot layout: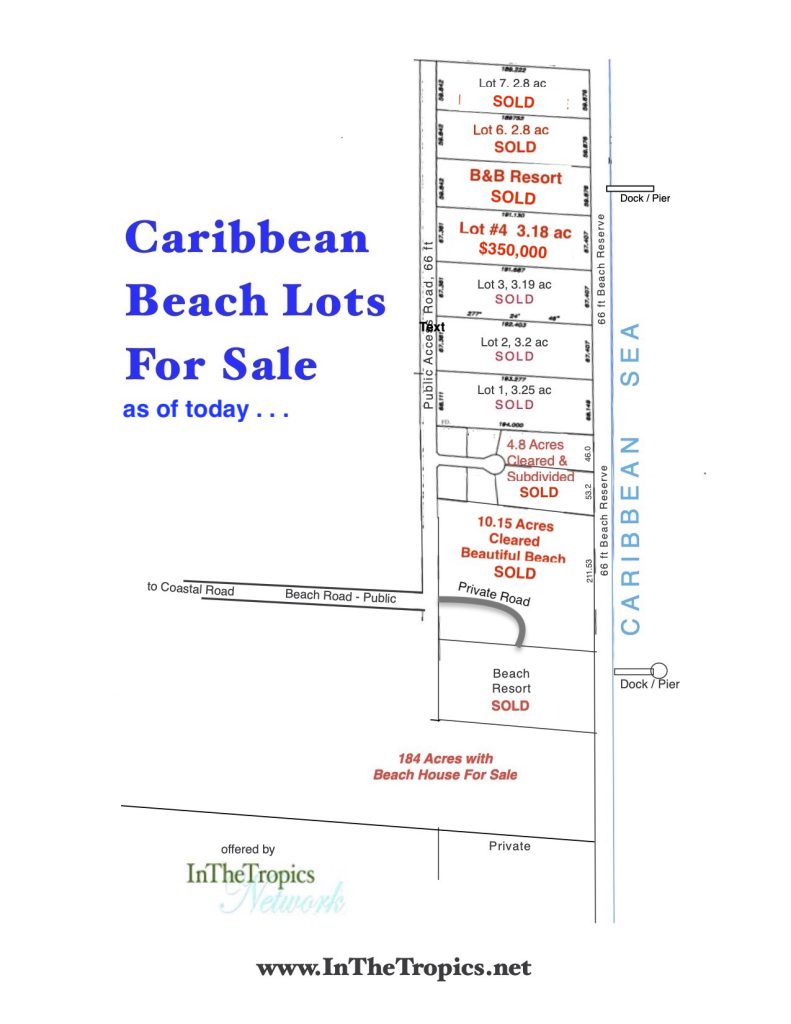 Currently, as of October 1, 2022 we have only one smaller Oceanfront Lot Available,
however we have many Larger Beach Properties available:
Please note: these (all but 1) are all public ROAD ACCESS properties, with pristine CARIBBEAN BEACH:
Lot #7, 2.8 acres (uncleared) = SOLD
with 195 ft beach frontage
L0t #6, 2.8 acres (uncleared) = SOLD
with 195 ft beach frontage
Lot #5, 2.81 acres with TURNKEY BOUTIQUE B&B = SOLD
with 195 ft beach with Dock, Rental Cabanas, Restaurant & Bar – much more

Lot #4, 3.18 acres (uncleared) = $330,000
with 221 ft of beautiful, elevated Caribbean beach frontage

Lot #3, 3.19 acres (uncleared) = SOLD
Lot #2, 3.20 acres (uncleared) = SOLD
Lot #1, 3.25 acres (uncleared) = SOLD
4.8 acres (cleared beach) = SOLD
with 328 ft beach frontage, including these lots: 1.5 acre beachfront lot; 1.28 acre beachfront lot,
and four 1/3 acre beach-access lots, centered around an established cultural-de-sac.
This property is legally subdivided.
10 acres (cleared beach) = SOLD
with 690 ft beach frontage

15 acres (cleared beach) = SOLD
with 1,000+ ft beach frontage
19.72 acres (undeveloped beach) = $195,000
Boat access only, with 420 ft of beautiful, elevated Caribbean beach.
This property is just north of the mouth of the Manatee Bar River, near Gales Point.
186 Acres Caribbean Beach w/ Beach House = $1,200,000
500 ft of well-elevated, high-sand, landscaped beach frontage, and extending west across the isthmus 1 mile to the Southern Lagoon, with a public road running through it ~ and a lovely beach house
right on your own Caribbean beach.
499 Acres Caribbean Beach & Open Savanna = Under Contract
1 kilometer of well-elevated, high-sand, natural beach frontage, with deeded road access, and a 2-acre freshwater pond. This magnificent section extends across the isthmus, east-west from the Caribbean beach to the Southern Lagoon.
948 Acres Caribbean Beach & Open Savanna = $4,800,000
Over 2 kilometers of pristine, high-sand, Caribbean beach frontage,
with a public road running through it. This magnificent section extends across the isthmus,
east-west from the Caribbean beach to the Southern Lagoon.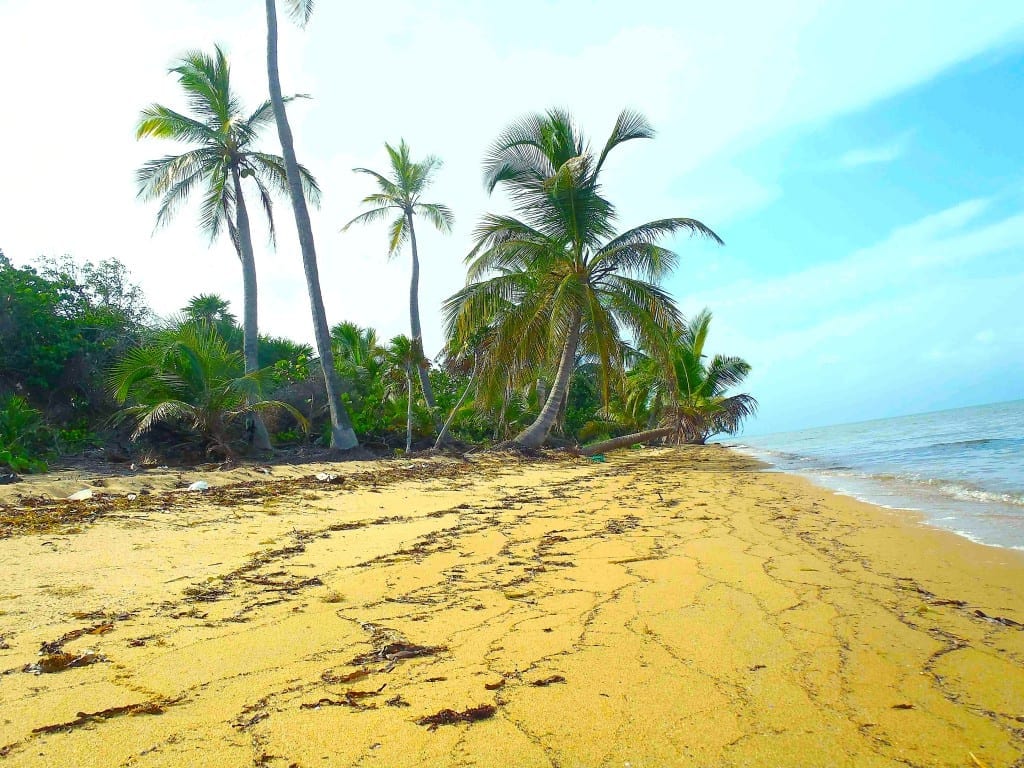 The Local Environment:
Our beach is the most important breeding ground for endangered Hawksbill and other turtles in the western Caribbean. It is close to the incredible Southern Lagoon estuary system which flows into the sea, through the nearby Manatee Bar River. This pristine estuary (an IUCN Wildlife Sanctuary) actually "feeds" the nearby MesoAmerican Barrier Reef. Nutrients and sediments from the estuary feed the many young coral structures 10 miles offshore. In turn, fish and aquatic life from the reef breed in its rivers, bays and mangrove habitat. Maintaining this pure balance will grow new coral islands and keep Belize's coral reefs vibrant. This is one of the earth's last, truly wild places. It is not far from Belize's airport, and can be reached by early afternoon from most American cities.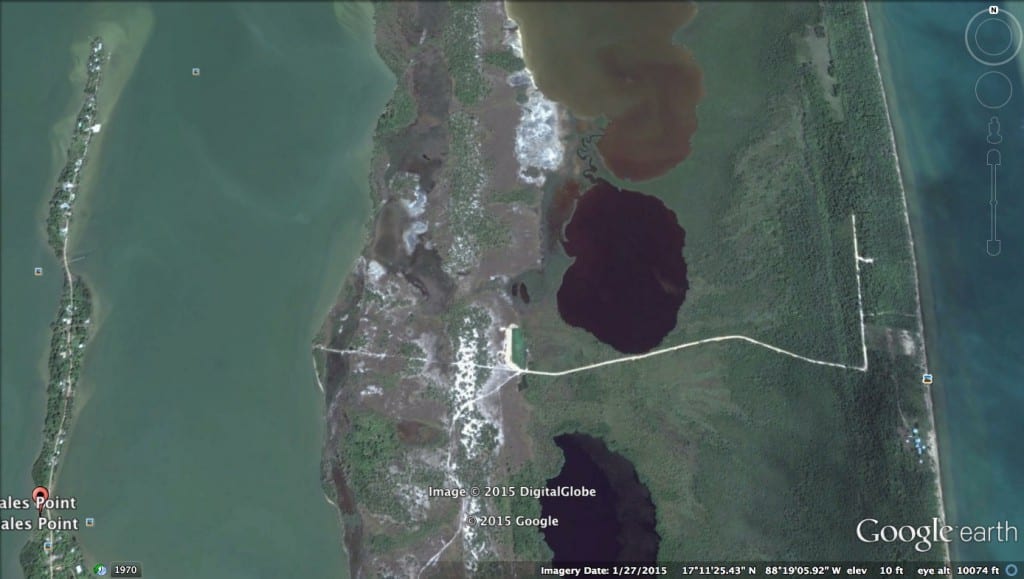 Enterprise Development:
A few miles to our south is a large (22 sq mile) estate, with a citrus plantation, a private airstrip, and thousands of hectares of wild natural lands. The government of Belize and a group of US-based medical clinical companies are discussing creation of a "medical enterprise zone" here, This would include beach-front and mountain-top "healing centers", in a luxury eco-resort setting. This will provide employment for local villagers, and the intelligent planning necessary to avoid overcrowding and rampant development as seen in the tourist towns. It will also improve roads and other infrastructure, which in turn benefits our property values.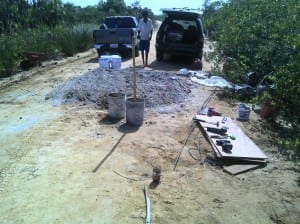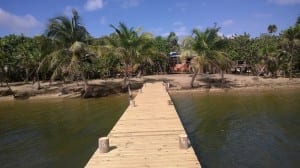 What Is Happening Right Now?
Now we have the start of a comfortable, secure community, on a quiet, sandy, beach road. Our "Beach Road" has been widened and reinforced for all-season use. A beachfront Bed & Breakfast is complete and in operation at the beach community's north. A half mile to the south a former Christian Mission center is now being transformed into an eclectic beach resort and restaurant. Between them are a collection of 10-acre, 3-acre and 15-acre beach lots ~ and by August 2022 most are sold. A private beach home with acreage sits to the south of the newly renovated resort. Further south is 490 acres of wild land, then 948 more acres of wild land. Then comes a 1,750-acre section, with ten, 1-acre beach lots and a private canal to their rear, and two beach villas on a 1/2 km manicured swimming beach. Beyond that is the private airstrip and the proposed enterprise zone ~ amidst miles of pristine beach, vast open savanna and primordial mountain forest.
The paving of the Coastal Road is now underway. Most bridges are already finished, others are underway, the road is widened and re-aligned, more than 25 miles are paved, and the project is scheduled for completion in 2023. This area – the closest destination-resort location to Belize's international airport – will soon be much easier to reach.
Once this road is paved, property values here will increase, and this will be Belize's new tourist haven.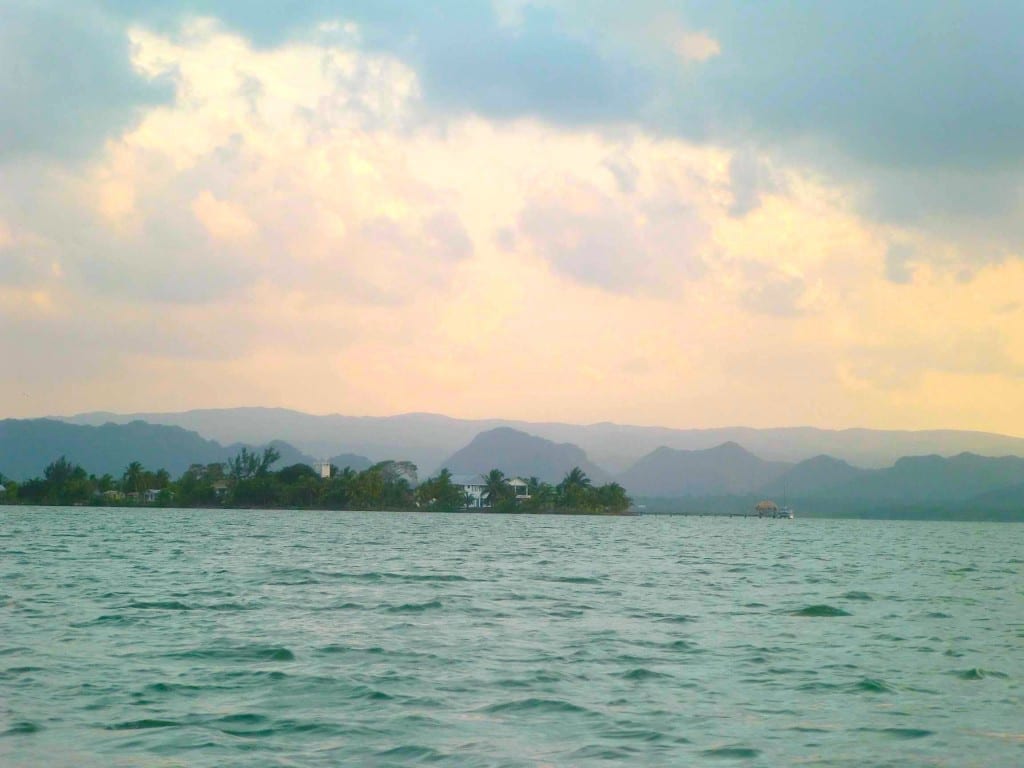 The Neighborhood:
Nearby Gales Point Village is a remote Creole fishing and subsistence-farming village on a narrow peninsula, jutting into the exotically beautiful Southern Lagoon. Directly south of Gales Point peninsula is a smaller peninsula, Hennings Point, with a private compound of 4 waterfront homes with docks, plus several buildable acres, all with stunning views. All have direct Caribbean boat access. Most days it is so quiet here that the only boats I see when I sit on my Hennings Point dock, is a fisherman in a canoe or hand-made sail boat, throwing a net in the early morning. From the the ocean beach, you might see us in a fishing boat a mile offshore, catching the big tarpon.
An IUCN Wildlife Sanctuary:
There is sparse population in this pristine region. You will find wildlife, aquatic life and plant life in wild natural abundance. Within the Gales Point Wildlife Sanctuary (an IUCN designated Category IV Wildlife Sanctuary), this beach is one of the Caribbean's most important nesting grounds for Hawksbill turtles. The immediate area, including the seaside lagoons nearby, is home to the largest population of West Indian Manatee in North or Central American or the Caribbean basin. Healthy populations of jaguar, ocelot, parrots, monkeys and other rare and exotic species abound in the surrounding forests and savannas. The sport fishing here is some of the best in the world, featuring tarpon, jack, barracuda, grouper, permit and many other species. The famous MesoAmerican Barrier Reef begins about 9 miles offshore, well known for outstanding reef fishing and some of the world's best snorkeling & reef diving!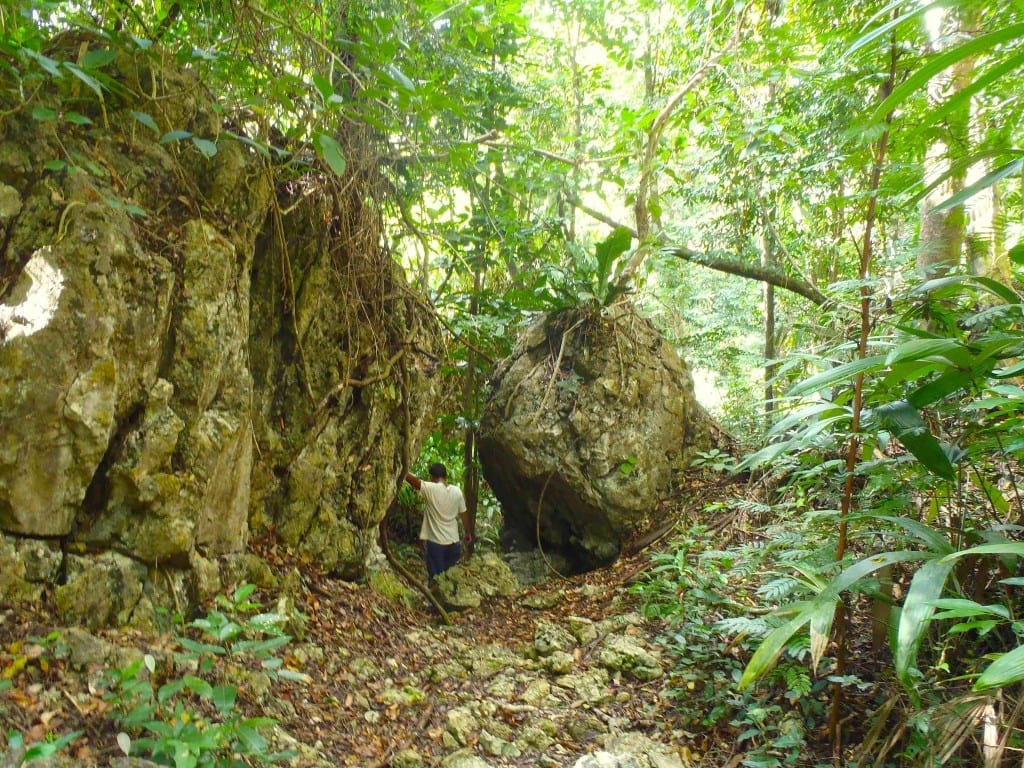 Timely Opportunities:
With natural, high-sand private beaches amidst mature coconut palms and hardwood trees, these properties have excellent, well-elevated, building sites. The Coastal Highway serving it is today being transformed from an all-weather gravel road, to a beautiful paved highway and shortcut to Southern Belize. Soon this strategic road and vital shortcut will attract more traffic. Property values will appreciate and development is coming. By using thoughtful, low-density planning & sustainable building practices, this area is now becoming an in-demand resort, safe-haven, and private retreat area.
Right now it is investment-grade, ocean-front land with huge potential.
Only one Ocean-Front Lot is left.
Significant (186+ ac.) Ocean Beach Acreage is available,
under $8,000 per acre.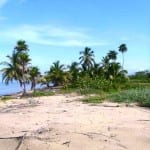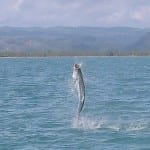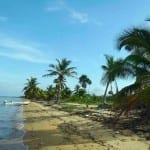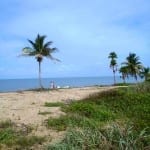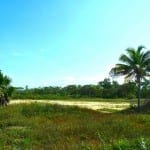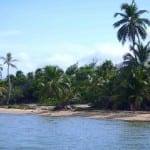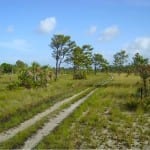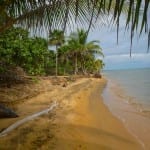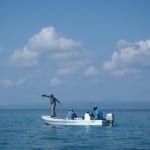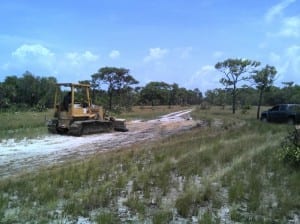 This is freehold-title property.
Foreigners can hold title to land here in Belize, unlike many other Caribbean and Central American nations.
The taxes, monetary system and business climate in Belize are favourable.
Titles for these properties are capable of warranty by the major title guarantee companies.

This is investment-grade property. Once these few lots are sold, they're gone.
This uncrowded part of Belize is where the majestic Maya Mountains come closest to the sea.
It has fresh Caribbean breezes, low population density, plenty of sunshine,
and ample rainwater & freshwater.
Create your own private, beach-front hide-away, secure in this Caribbean Safe Haven.
Click on a photo for a larger, detailed view of the image.
Contact us for a site plan, maps, building costs, details, and GPS coordinates.