Self-Sufficient, 10 Acre Organic Farm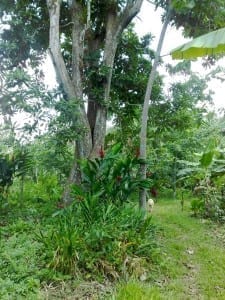 This lush, remote, 10 acre organic farm has 500ft frontage on the elevated banks of the crystal-clear, free-flowing, Mullins River, 6 miles above where it flows into the Caribbean Sea. This quiet farm has been carefully planted and maintained for decades in the ancient Mayan tradition by one of Belize's major organic farming authorities. Planted with numerous species of mature medicinal, ornamental, & edible herbs, trees, fruits, vegetables and food crops, it is on the edge of a large citrus orchard, in a secluded location 7 miles east of the dramatic Hummingbird Highway, or from the closest store in Pomona Village. The road is a gravel, all-season road.
No chemicals have ever been used on this land; it is self-fertilizing with nitrogen-fixing ground cover; a very economical and sustainable agroforestry system designed by a professional for low labor input & minimal maintenance. Income-producing plants include many heirloom & rare, useful species, and a wide variety of superior-quality nursery plants.
This property includes a basic, solar-powered, elevated homestead made of hardwood and bamboo, with an open, outside kitchen with natural oven, and a storage trailer. The property is gently elevated in the foothills of the Maya Mountains (elev 115 ft. above sea level), with giant hardwoods, huge groves of bamboo, and tremendous panoramic views. At this location natural Caribbean breezes comes up from the sea during the day, and a cool evening breeze descends from the mountains above.
Surrounded by pristine high-canopy jungle on the south & west, on the banks of the Mullins River to the north, and overlooking citrus groves and the sea to the east, this is the perfect, self-sufficient, sustainable place to get back to nature. A famous waterfall is upstream a short hike, and fish are plentiful in this pure river. Ample rainfall provides good drinking and irrigation water. This property is off-grid, but within cell phone & internet coverage.
Clear title property, offered at $85,000
Contact us to schedule a visit.