Profitable Hopkins Beach Resort

 This profitable, owner-operated beachfront resort is in Hopkins, one of Belize's popular tourist destinations.

This is a high-quality, established beach resort, in a very popular location. It has a high booking rate year-round, and significant repeat business. This 11-room resort has a 6-room, 3-storey Boutique Hotel – newly constructed in 2014; and 5 cabana rooms that were constructed in 2000 and thoroughly remodeled in 2010. The resort comfortably sleep up to 32 guests. It has a thriving bar and restaurant, tour business, and gift shop, all located on one of the most up-and-coming beach locations in Belize — Hopkins. Its 150 feet of natural, high-sand beachfront appraises at $900,000 just for the 3 lots it sits on. All vehicles, boats, restaurant equipment, and laundry facilities are included in this turnkey business ~ being sold while it is at the top of its game.

This popular beach resort is marketed to travelers & adventurers worldwide as a major, all-inclusive resort , yet it has the 'owner-operated feel' of a small boutique property. With a well-seasoned staff and strategic beachfront location that simply can't be beat, this well-executed resort is primed and ready for you to step in and earn $300k+ per year from its combined operations.

The new Boutique Hotel has 2 rooms per floor , all beachfront with giant furnished verandas overlooking the sea and the pool. Each room has WiFi, AC/ Cable TV and a queen and double bed with extra large all tiled bath. 2 of the rooms have a single bunk above the double for families and there is the ability to add extra beds as needed. The fantastic roof top is equipped with a BBQ and tables and chairs as well as a bar for private weddings, or group dinners. The rooftop lounge is famous for panoramic views of one of Belize's highest peaks, Victoria's Peak, and spectacular sunsets beyond the Maya Mountains. These rooms rent in excess of $200 per night, and the average stay is 7 nights.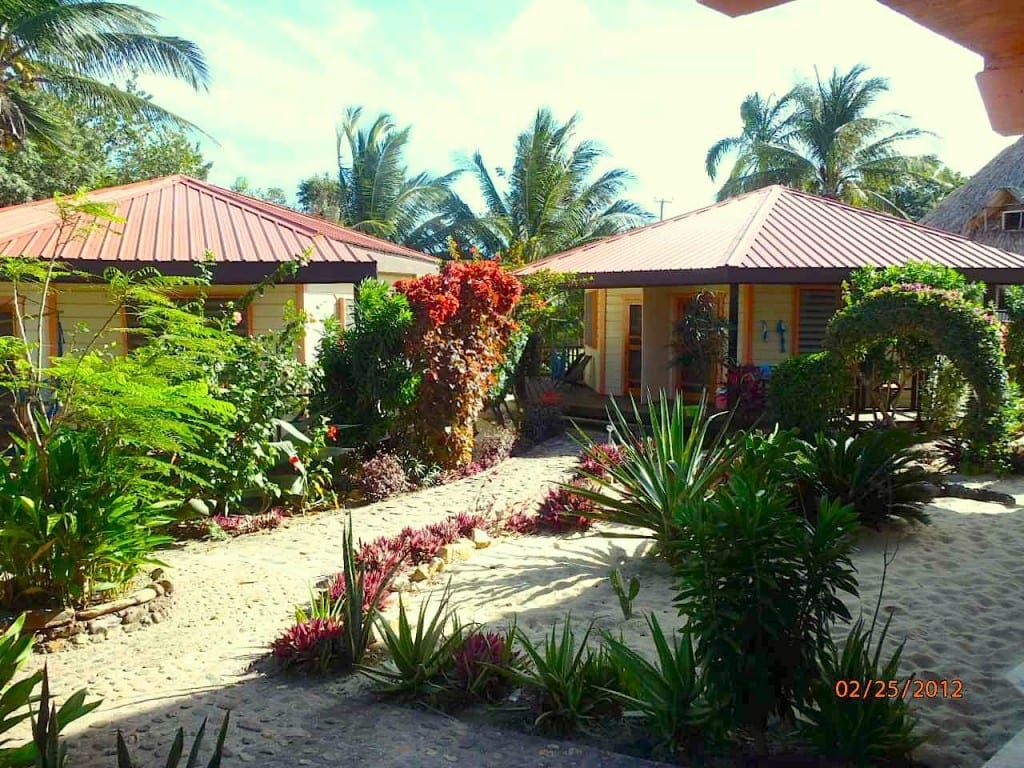 The 5 original Cabana Rooms consist of 4 rooms in 2 duplex cabana units right on the beach. Front porches, open and airy for accepting the breeze, floor and ceiling fans and oversized tiled baths round out the package here. These units all have a king bed and a futon for an extra person and can also take bunk beds to sleep a family of 4. They rent for an average of $150 per night, so between the hotel and the cabanas, we've got 2 markets covered. The remaining unit is our Tree House which can sleep a family of 5 with a double bed downstairs and a loft with 3 single beds – the Tree House is the most affordable unit on the beach in Hopkins to accommodate a large family.

One of Belize's best restaurants: The restaurant has enjoyed a great business for the last 10 years with its beach location and open al fresco dining, only 30 feet from the sea. Walk-by traffic is brisk as we are located in a major resort zone. Our guests get first reservations so the restaurant makes a healthy profit as well. Currently only open for breakfast and dinner, one could easily add lunch to the venue for an even bigger cash flow than it already presents. The restaurant currently seats 42, but easily could seat more. It is equipped with 2 commercial 6 burner ranges with 32 inch ovens. Stainless steel counter tops, all pots and pans and tableware are included. The restaurant contributes about 1/3 of the revenue for the entire operation and can easily do more.
Tour operations: A brand new 2015 12 passenger diesel van with Chrysler Cummins engine and German Transmission as well as 2 other diesel vehicles come with the operation as well as a 28 foot skiff, complete with snorkel and fishing gear and brand new 90 HP 4 stroke Yamaha engine. Profits from tour operations contribute close to $60,000 per year and all equipment is kept in meticulously great shape. Maintenance facilities consist of a large commercial laundry area in the new hotel and then 2 washers and dryers in the original building near the restaurant. Everything to maintain the property is included. Other accoutrements : 10 brand new Kayaks were purchased in 2014 , 2 double s and 2 singles and are free for guests to use. 12 bikes are included, also free to use. 4 paddle boards are also available for guest use.

Luxury owners' quarters: Owners' living quarters are luxurious, consisting of 1500 square feet on the second story of the main building housing the restaurant. This well-furnished suite features 2 BR, 2 bath, kitchen, and office area. You will wake up with the sun coming up over the Caribbean Sea as you look out your double doors onto your front deck right from your bed . This could be an on-site managers quarters, as it could be converted into a luxury suite that would rent for about $500 per night. A highly-effective website, and in-place marketing plan, including social media, all come with this turnkey operation. Start living the dream and making a great living doing it in paradise.
ASKING PRICE: $2,500,000
Financing Available