Arabu Ranch Sites on Belize Coast

 Where Belize's exotic Maya Mountains come closest to the Caribbean Sea, we have five beautiful farm/ estate sites with panoramic savanna and hilltop building sites; stunning views, year-round flowing freshwater creeks; open, agricultural-grade savanna; pristine forest; and road frontage on the strategic Coastal Highway ~ only three miles by boat from the Arabu Point Beach Club, a private Caribbean beach retreat just for Arabu Ranch owners.
There are 4 remaining building lots of 15, 20 & 25 acres, each with road access on the Coastal Highway.
See lot pricing below.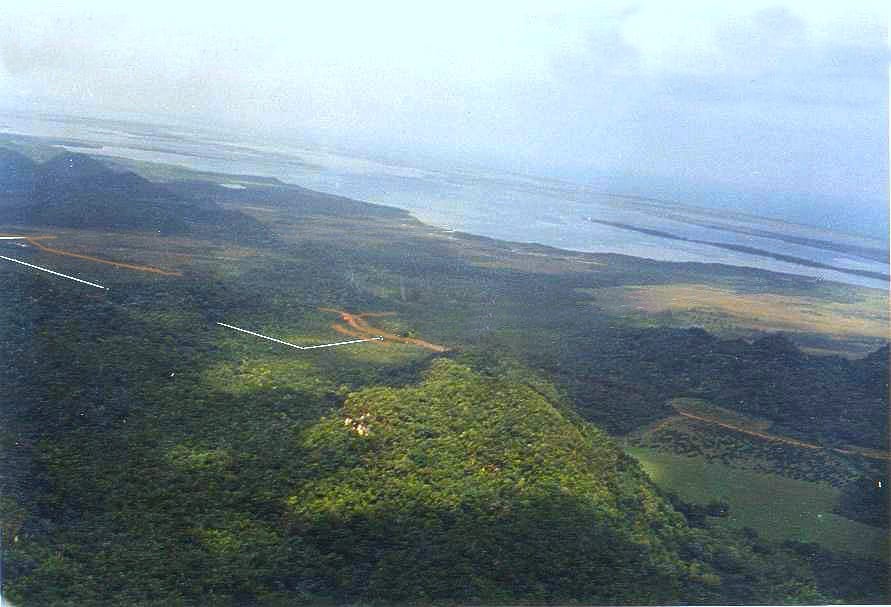 Two thirds of this property's area is open savanna. The dramatic 250-ft kaarst hill has several elevated building sites offering magnificent, panoramic views out to the Caribbean Sea, into the Maya Mountains, and across the coastal plain. There are two year-round, freshwater creeks on the property, a private gravel road, and gravel deposits for additional road building. The hill has pristine, high-canopy jungle with huge flowering hardwood trees, including giant mahogany, sapodilla, santa maria, cohune and other palms, and an incredible variety of wildlife in wild natural abundance. Flocks of Blue Morpho butterflies flash in the sun. Wild orchids and colorful bromeliads abound. This property is about 3 miles by boat from the Caribbean Sea, and it is 4 miles by road from the picturesque fishing village of Gales Point ~ a culturally-unique village know for its historic musical heritage.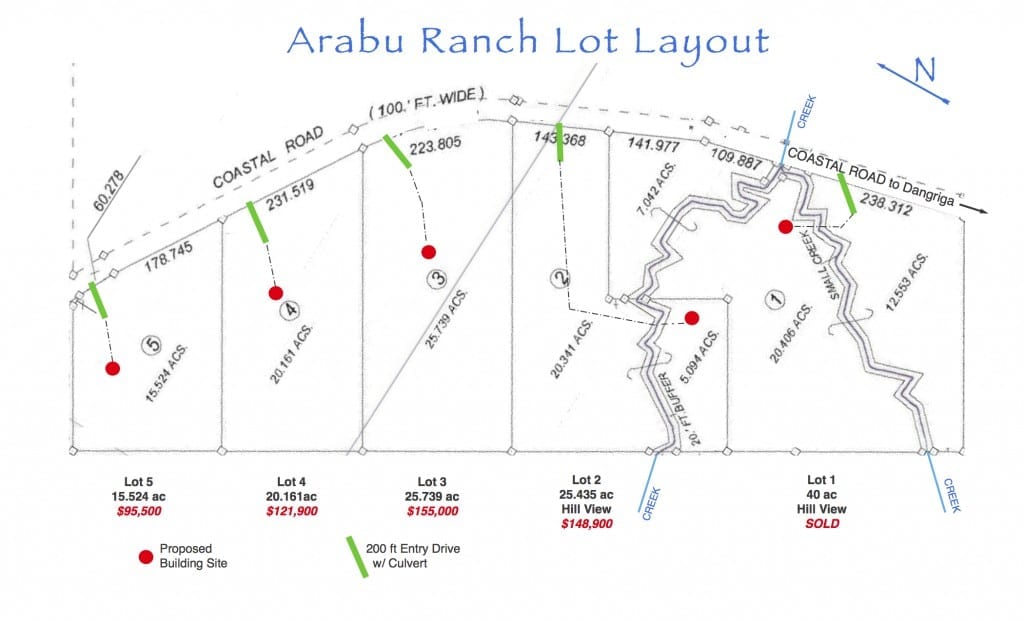 This property is within an area of top-producing citrus farms, and has excellent citrus potential.  In this coastal area, the rainfall is about 80 inches per year, with favorable Caribbean breezes, and many untouched ocean beaches nearby. The nearby, seaside Southern and Western Lagoons represent some of the best sport fishing in the Caribbean. This Coastal Highway location offers seclusion and privacy, but is close to the international airport. On 9/21/16 Belize's Prime Minister officially announced the paving of the Coastal Highway, a strategic shortcut to southern Belize. This magnificent, sparsely-developed area will become Belize's next popular resort area, and property values will greatly increase.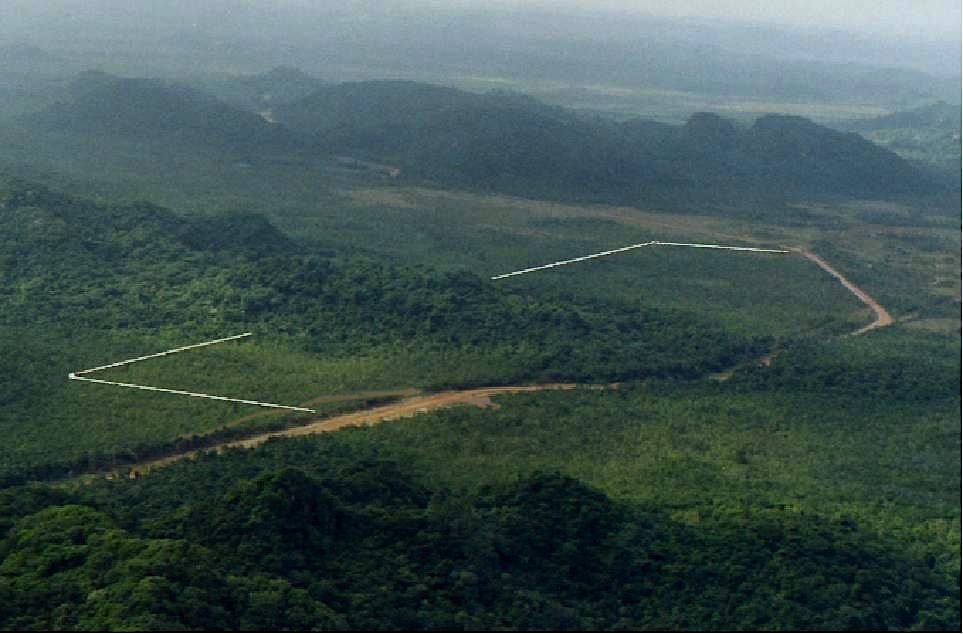 Panoramic Building Sites
This property is an excellent location for a secure private retreat, farm, or a spectacular jungle eco-lodge overlooking the sea. There are excellent resources in the area for building, outfitting and growing your dream. Recently subdivided into 5 estate lots, this property is specified on the Belize tax records as "Agricultural Property". All lots have Coastal Road access, and an entry drive with culvert.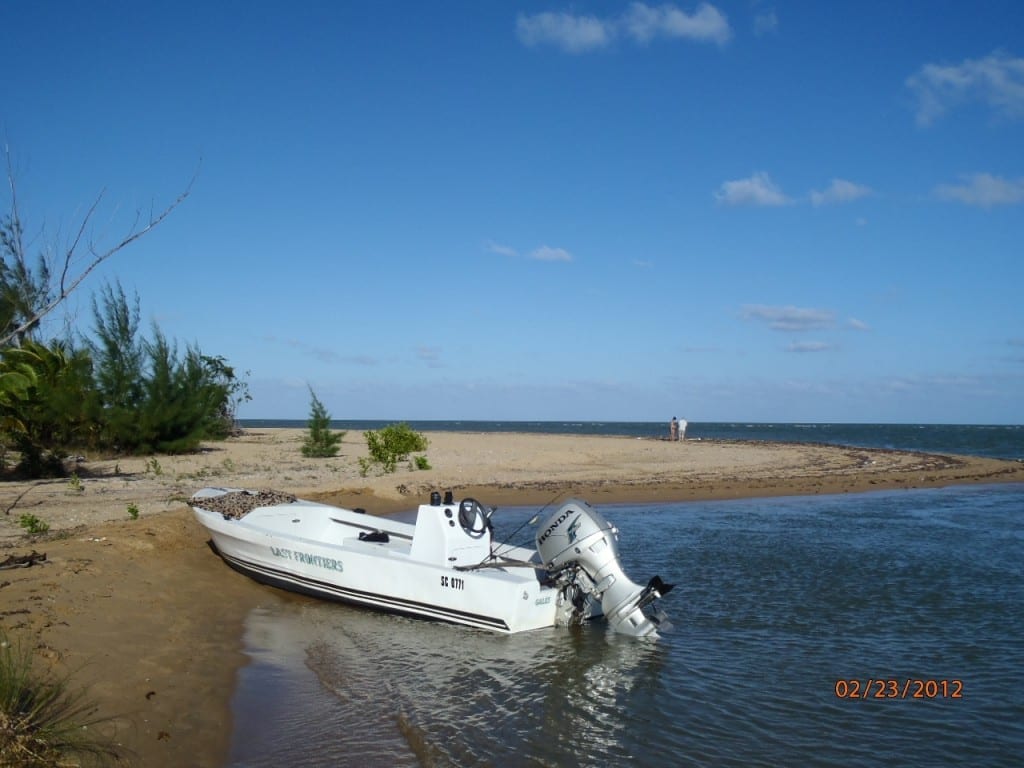 Arabu Point Beach Club ~ the Best of Both Worlds
Property owners of Arabu Ranch, these spectacular 15 to 40 acre ranch lots, can enjoy Arabu Point Beach Club, a nearby private 20-acre Caribbean beach, complete with a thatch-roof "palapa" bar, stone BBQ fire hearth, and picnic cabanas, set within a pristine wildlife sanctuary on one of Belize's finest, natural sand Caribbean swimming beaches, surrounded by epic sport fishing and water sports. Enjoy a true Caribbean "surf & turf" lifestyle.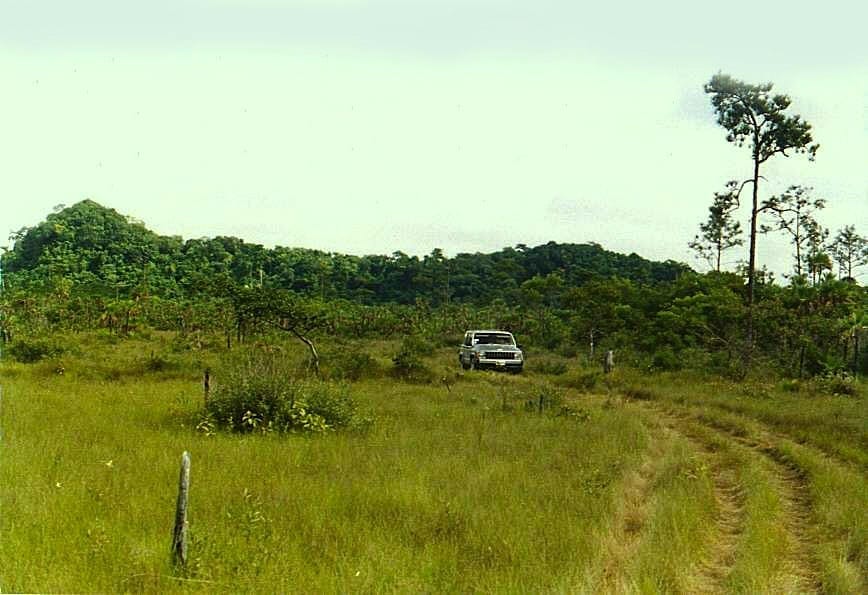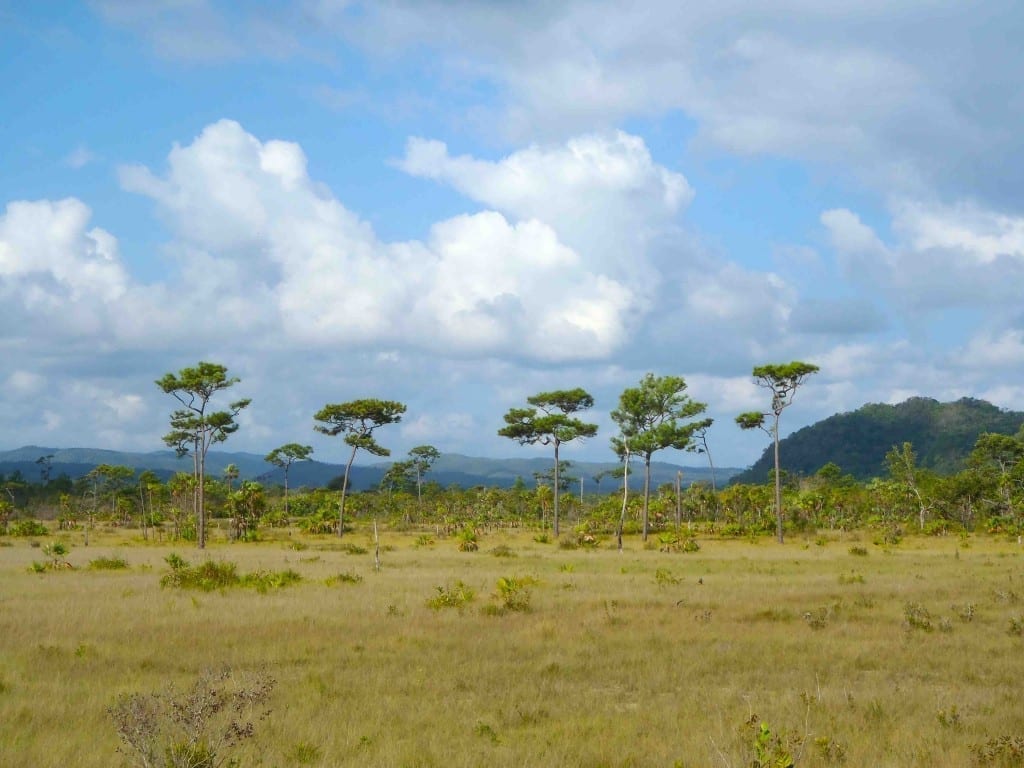 These are choice lots in a spectacularly pristine area, with future growth potential.
• 40 Acres with creek,  jungle,  forest & hilltop building site:  $SOLD
• 15.524 Acres with open savanna • $92,000
• 20.161 Acres with open savanna and jungle: $99,900
• 25.739 Acres with open savanna and pine savanna: $122,900
• 25.435 Acres with dramatic hilltop view, creek, pine savanna and jungle: $131,500
Please contact us for more information, photos, GPS coordinates, and to arrange a visit:
mark (at) InTheTropics.net