Affordable Waterfront Lot on Placencia Peninsula

Build your dream home and dock in this Caribbean paradise. Once a sleepy fishing village, Placencia has emerged as a popular destination on the Caribbean. This lot is located midway down the 26-mile-long 'Placencia Peninsula', in Southern Belize. The lot is right on Placencia Road, in the quiet village of Maya Beach. It is walking distance from Maya Beach Hotel & Bistro, the Green Parrot, and Mango's Bar; and about two miles north of Placencia's airstrip ~ with hourly flights to Belize City and other destinations. Close by are markets ~ and a bakery with the best cinnamon rolls you ever tasted.
Maya Beach sits right in the middle of this spectacular peninsula's 16 miles of tranquil public beaches ~ with Placencia Lagoon and the Maya Mountains to the west; the clear-blue Caribbean Sea to the east; and peace & quiet in the middle. This .21 acre lot (853.84 sq meters) is on the lagoon side of the road, on Palm Canal with direct boat access to Placencia Lagoon. It has an excellent, sheltered location for a boat dock. By boat, the lagoon leads to Placencia Village, then to the blue Caribbean Sea.
Placencia, a true beach-holiday strip on Belize's mainland, is popular with North American and European expats and tourists. A sailor's paradise, nearby are hundreds of coral reef islands, strung like pearls across the sea.
For the outdoor adventurer, the surrounding Stann Creek region offers a host of activities: hiking through mountain rain forests, kayaking, sport fishing, snorkeling, diving and exploring Mayan ruins.
Numerous local tour guides and dive centers offer a variety of excursions, with boat trips to the cayes (pronounced, "keys") for truly memorable snorkeling and scuba diving adventure.
Also popular are guided land tours to Mayan Ruins or trekking the jungle trails of Cockscomb Basin Wildlife Sanctuary, where the first Jaguar Reserve in the world was established. Nearby are exclusive resorts, such as Francis Ford Coppola's Turtle Inn, as well as iconic local favorites, beach pubs and cafés.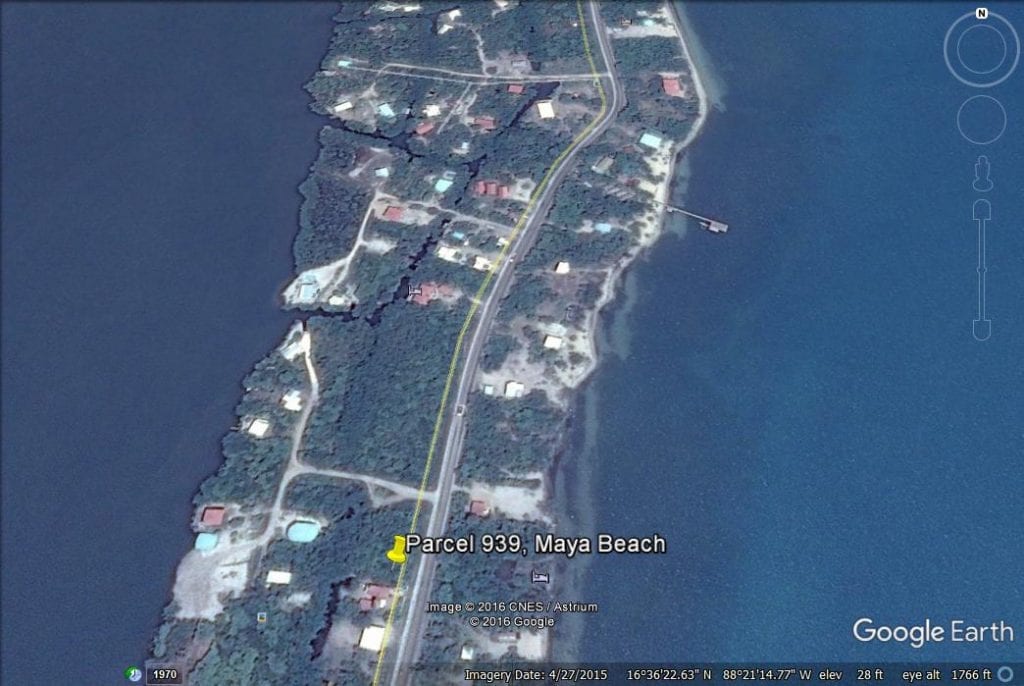 The New York Times recently (January 2017) featured Placencia as one of as its "52 Places to Go in 2017".
Check it out on-line in the New York Times' Travel Section.
This investment-quality property is a clear, freehold title property, capable of title insurance.
Lot #939 is being offered at $125,000
 financing is available